ClickFunnels just announced the ClickFunnels Platinum upgrade! Below you're going to see info on ClickFunnels Platinum Pricing and my review. Yep, I've got access to Platinum and will be revealing ALL below.
This was a huge annoucement for Russell Brunson to make, as it looks like they are focussing on what WORKS for ClickFunnels, so they can project themselves forward as a company. If you ask me, the changes introduced are better for both ClickFunnels and it's customers.
As you can imagine, the ClickFunnels annoucement tonight came with a huge offer where Russell introduced his new package: ClickFunnels Platinum.
Want to know more about ClickFunnels Platinum Pricing or a full review? Don't worry, I got have your back!
CLICKFUNNELS PLATINUM PRICING
Let's just cut to the chase. In his annoucement video, Russell said that the ClickFunnels Platinum price will be $697 per month, but if you buy during this offer phase you can get it for $297.
When you consider all of the value that's been packed into ClickFunnels Platinum, it's actually a great offer. They're focussing on Follow Up funnels more, and have thrown in all of the FunnelFlix content… which is kind of a Netflix for Funnel Builders that includes many of his previous high ticket training courses (including all the training material from Funnel Builder Secrets that previously costed $3000!).
If you're on the fence about this, I wouldn't hesitate to jump in and buy ClickFunnels Platinum before the price shoots up to $697 per month.
CLICKFUNNELS PLATINUM REVIEW
ClickFunnels Platinum has literally just been announced (23/09/2019). I've purchased it and will be doing a full review asap. Watch this space and I'll have a full ClickFunnels Platinum Review up in the coming days.
While you'll have to wait for the ClickFunnels Platinum Review, what I can tell you is what's inside the package:
Unlimited Funnels
Unlinted Pages
3 Users (up to 3 users can have their own logins to one ClickFunnels Account
Connect 9 Different Domains
Funnel Hacker Discussion Forum
Virtual Hackathins (Real time funnel building by ClickFunnels experts)
Follow-Up Funnels (replacement of Actionetics)
Access to FunnelFlix
WHAT IS FUNNELFLIX?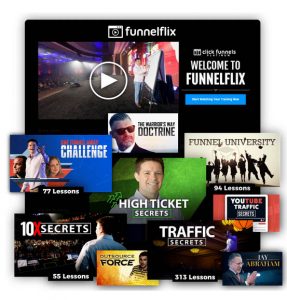 Imagine like a Netflix for Funnel Hackers & Marketers. When you upgrade to ClickFunnels Platinum, you get access to the ClickFunnels HUGE course training vault. Pretty much all video training from Russell Brunson himself, plus some training from Tony Robbins and other guests like Garrett White are all included in FunnelFlix Platinum! The total of this training alone would cost $25,000 to buy standalone! Incredible value if you ask me. Just another reason to upgrade to ClickFunnels Platinum. 
WHAT DOES CLICKFUNNELS PLATINUM LOOK LIKE INSIDE?
I have only just purchased ClickFunnels Platinum but I'm in the process of doing a full video review for you. Come back in a few days to see this video review of ClickFunnels Platinum.
Summary
Reviewer
Review Date
Reviewed Item
Author Rating